Posted by Jason Gidas on 14th Mar 2019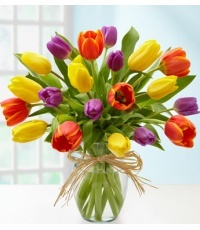 People often say to us after a busy holiday like Valentine's Day: "Well I guess you are just getting ready for Mother's Day now." While Mother's Day is one of the busiest floral holidays of the year, March and April are also busy months. People often overlook Easter, Graduations, and Spring flowers. There is something about Spring that gets people excited about being outside, planting things in their gardens, and ordering flowers.
Spring Flowers
Tulips are one of the more popular and affordable flower options this time of year. There's just something about seeing tulips that make people think, Spring has arrived! After a long, cold winter, tulips, along with daffodils, hyacinths and iris, get people excited about warmer weather and signal the arrival of Spring.
Daffodil Day, March 20th 2019
One of our favorite days of the year at Gidas Flowers is Daffodil Day! This Wednesday, March 20th, we will hand out over 2000 free daffodils between the hours of 11:30 am and 1:00 pm to anyone who walks by our flower shop.
This has been an annual tradition, and a great way for us to give back to the Pittsburgh community and get people excited about spring time. So stop by between 11:30 and 1:00 this Wednesday for a free daffodil, or check out our newly designed website www.gidasflowers.com to place an order for that special someone with your favorite Pittsburgh florist!